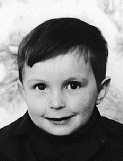 Fri, 25 Jul 2003
Phoolan Devi, Bandit Queen, was murdered two years ago
You maybe don't know Phoolan Devi, the Bandit Queen, even if she was really famous in her country, India. Here are a few words about her life:
Born in 1963, in a poor low-caste family, she was married at 11 to a man who was 3 times her age. After being abandoned by him, she was raped on a number of occasions, and eventually was kidnapped by bandits.
At the age of 20, she became quickly a legend when she became the "Bandit Queen", and the leader of a group of dacoits (robbers) in north and central India. On Feb 14th, 1981, as she was 18 years old, she attacked the Behmai village, and killed 22 people with the help of her band; One of the victims previously raped her and killed her own lover.
She became the number one police target, but, helped by the population, she always avoided to be captured.
She eventually managed a deal with the government, and, before a crowd of 10,000, she surrendered in 1983 (left picture) to the authorities. She spent the next 11 years in prison without any trial, three more than she negociated.
After being released, she became Member of Parliament in 1994, and tried to fight for the oppressed people. She was even nominated for the Nobel Peace Prize in 1997!
She was shot dead by three men on Wednesday, 25th July 2001, outside her residence in New Delhi... She was 37.
Here are some links:
BBC News article and biography
goodbyemag.com biography
Philip's Phoolan page (good starting point)
Articles about events following her death
Biography and interview (1996). Read only this one if you are lazy!